IT consulting and video conferencing solutions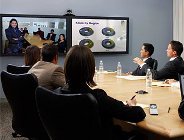 Welcome to the website of CRS
We offer our clients professional, vendor independent Videoconferencing- as well as IT- and networking-know-how from a single source.

Professional concept development, planning and design of the future VC-platform. Extension of existing VC- devices and VC-infrastructure systems as well as audio conferences.
A video conferencing system is a very economical communication medium, and offers a very plastic spatial impression with full HD resolution and new Telepresence technologies, "as if you can sit in the same room", which increases the communication discipline. A video conference can not only connect 2 locations, but can be taken as a "Multipoint" Conference and thus connect to many different locations at the same time.
Get a comprehensive overview of our complete offer on our website.